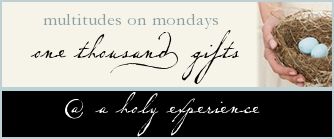 There has been much sacrifice in giving thanks lately... painful sacrifice. My heart aches so intensley each day that it's hard to find words to describe it, only tears say enough. And lots of those have fallen. And yet, God remains, unchanged, the only true good in this cruel, long, heart wrenching process...and I am slowly learning to keep my eyes, my heart, a little more focused on Him. We got a few more pictures of him today....I don't want pictures. I want him. In my arms. For good. We are still waiting on Embassy submission...we aren't even "in line" yet for a travel date. We thought we'd go this month...but it is now just another month of empty arms. It takes my breathe away. A glimpse of what Christ suffered for me...coming while I cried "crucify Him!" and Him only wanting me back, to hold me as His own, forever. And so we wait because we have no other choice...and I try to give thanks anyway.
1. Rain, like tears from God Himself today on our dry, cracked land.
2. Zach and Ayana, giving me so many hugs and kisses...balm to my soul.
3. Dear friends who cry with me and for me and will be there to rejoice when this too passes.
4. A supportive husband who aches too.
5. My garden, finally my own garden again after all these years. Something to tend, to watch grow.
6. Another day past in this wait that I grow more weary of.
7. For friends who are lifting me up in their prayers...this is how I am surviving.
8. Pictures of my smiling boy...a reassurance that what we are doing is real.
9. The song "Blessings" by Laura Story.
10. That God never changes and that He will finish what He started.